Do you use Amazon to shop? Did you know you can shop and support OPH at the same time? Adding OPH to your shopping trips is easy. For Amazon, simply go to - http://smile.amazon.com. Select "Operation Paws for Homes" as your choice of Charity. Then shop! It's literally that easy and you can get done shopping and know you helped to save dogs at the same time.
Make a dog or cat's wish come true with our Amazon Wishlist. We have gathered a list of favorite toys, treats, bones, chews, medical supplies and other cleaning items our foster homes use on a regular basis. Help us treat our foster animals to something special and keep our supplies stocked in our foster homes!
What dog or cat does not love new toys and treats? BarkBox is a monthly service that sends a themed collection of toys and treats to your home. Every BarkBox has at least 2 innovative toys, 2 all-natural bags of treats, and a chew, curated from each month's unique themed collection. OPH receives a $25 contribution on any new 1, 6, or 12 month subscription plan purchase. As a customer you receives 50% off their first box with the purchase of a 6 or 12 month subscription. Simply use Promotional code PAWSFORHOMES when signing up.
Operation Paws For Homes is proud to be a Partner for Pets! BISSELL and LostPetUSA.net have teamed up to help organizations like ours to raise money, and now you can help too! When you purchase pet products on bissell.com and enter the code ADOPT at checkout, a portion of your purchase will be donated to our organization.
Giving Assistant is the easiest way to donate to Operation Paws for Homes. It's simple and free! Shop online at any one of 1700+ popular online retailers like Lowes, Macy's, and Target. You'll earn cash back, and you can choose to donate a percentage of that cash back to us! Let's change the world together—one purchase at a time.

You can now get the best deals at thousands of stores at Goodshop and each time you shop, a percentage of what you spend will be donated to our rescue. For example, you could find a deal like 25% off a pet order with a 1-800-PetMeds promo code or find an Hotels.com deal that saves you on your next vacation or an Urban Outfitters coupon that results in a donation to our dogs. Goodshop works with thousands of stores, so start shopping, saving, and giving back today!

With your iGive account our animals will receive a donation everytime you shop at over 1,000 online stores, including Crate and Barrel, Buy Buy Baby, Petco, Toys R Us, and over 1,300 more.
Select "Operation Paws for Homes": iGive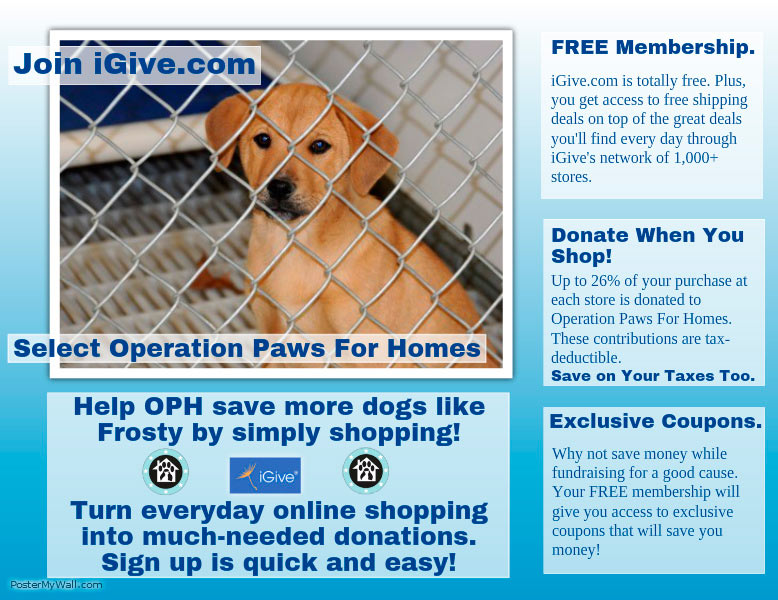 As an OPH supporter and fellow animal lover, we know that you will be faced with a lot of questions about your pet on a daily basis – How do I know if my pet is sick? – How do I keep my dog's coat shiny and lustrous in winter? – How can I cook healthy meals for my dog at home? Well, wouldn't it be great to have all of these questions and more answered in one great magazine? The Bark magazine provides a wealth of information by experts, such as training and health tips, awesome recipes for homemade treats. There are also great articles on healthy living, activities and sports, food and nutrition, and also wonderful stories about the amazing adventures of dogs and their owners! All this and more is available to you at just $18 a year, and what's more, you can help OPH with this purchase too! OPH has recently partnered with The Bark magazine to receive 10% of their subscription sales as donation! Just follow this link and complete an $18 magazine subscription purchase and we will receive a donation! A wonderful way to help your dogs and contribute to OPH! Sign up today!
Realtors to the Rescue is a nationwide referral program to benefit OPH. Are you thinking of buying or selling a home? Make it a moving experience and learn how your transaction can trigger a $1000 donation in your honor to OPH and how you can get a $1000 buyer closing cost credit. Visit Realtors to the Rescue website to learn more.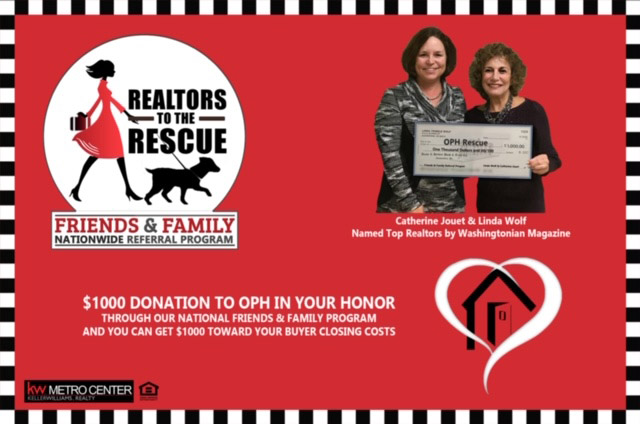 US Bones sells a broad range of US manufactured premium qualtiy dog and cat food, treats, and accessories through a program focused on supporting animal welfare groups. Their initial grass roots efforts consisted primarily of generating awareness through event support; e.g. sponsoring and selling products at fundraising events. US Bones currently has over 500 partner groups with 6-12 new groups added each month.
Go to the unique link for OPH to make your purchases. This will tag your orders so OPH can receive 25% of the order value back to the rescue (pre-tax and pre-shipping amount).
Support us simply by walking your dog! Use the app each time you grab for the leash. It's healthy for you, your dog, and OPH. The average donation is 25 cents per mile. Find Operation Paws for Homes listed under Alexandria VA, Baltimore MD, Hanover PA and Washington DC.
OPH is a proud partner with Chewy Dog Food! Place your online order via our Chewy site and OPH will receive a $20 dog food credit towards purchasing food for all of our foster dogs! Chewy has a huge selection of pet food, treats and supplies delivered straight to your door!
Fast, FREE shipping
24/7 customer service
Cheaper than your local store
Save 20% off your first autoship order
Does your dog need a vacation? Ruff Guide to the United States features 365 of the best places to stay and play with your dog in all 50 states. Whether your pooch prefers to 'ruff it' on a hiking adventure or sit in the lap of luxury at a five-star resort, the assortment of trips in this book is sure to have him (and you) begging for a vacation! When you enter code "OPH" at checkout, you'll get free shipping, and we'll get a $10.00 donation for each book sold!